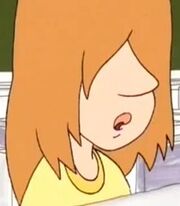 Melanie Bellanchof (voiced by Debi Derryberry) is a newer student to the school. She is Mrs. Bellanchof's daughter, her parents are either divorced or split up, as Melanie comes to town to live with her mother. She doesn't like living with her, and when referring to anything that she doesn't like will say either "Don't know", "Don't care" or "Smells". At her house, she is mostly seen on the phone talking to a friend from her old school named Gloria.
Ad blocker interference detected!
Wikia is a free-to-use site that makes money from advertising. We have a modified experience for viewers using ad blockers

Wikia is not accessible if you've made further modifications. Remove the custom ad blocker rule(s) and the page will load as expected.